Community initiative promoting esports as a safe social activity amid the pandemic
Singapore, 14 May 2020 – In the spirit of the World Health Organisation's (WHO) #PlayApartTogether campaign, the Singapore Esports Association (SGEA) launches a new initiative – #SGPlaysTogether, to promote online gaming as a safe social activity, connecting people socially from home and share the importance of social distancing and safety measures during the COVID-19 pandemic.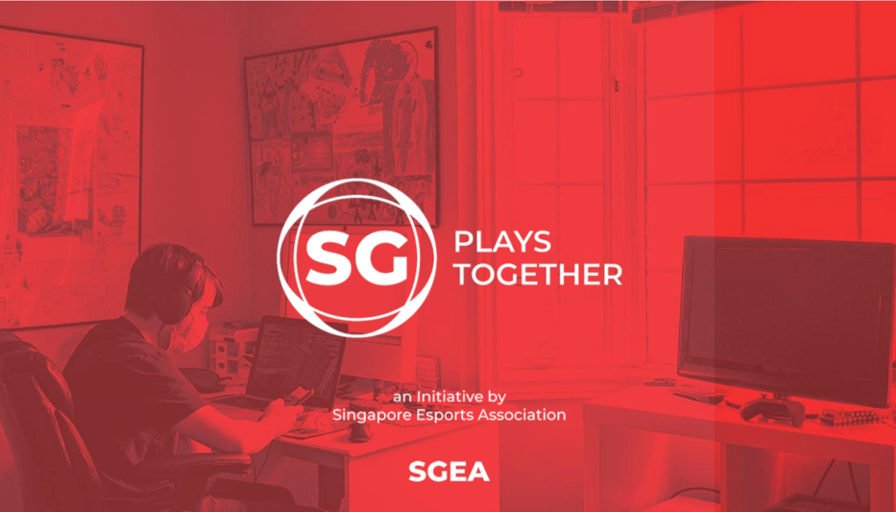 #SGPlaysTogether aims to foster community bonding through online gaming during this challenging period, leading to community growth through a safe social medium. SGEA will incentivise participating gaming communities with specially created Care Packages supported by industry sponsors and partners as prizes.
"#SGPlaysTogether encourages youths to bond online by playing video games that they love, following Singapore's call through the #SGUnited message on the importance of Singaporeans, including youths, to exercise their part in the fight to safeguard one another and saves lives amid the pandemic," said Ng Chong Geng, President, Singapore Esports Association.
Through this community initiative, SGEA is collaborating with Singapore Cybersports & Online Gaming Association (SCOGA) to facilitate outreach programmes to schools through Campus Legends, which includes local ITEs, polytechnics, and universities offering comprehensive esports and talent development programmes; enabling them to run competitions, tournaments, and other gaming activities.
The initiative is supported by sponsors including international travel accessories retailer American Tourister, worldwide leader in digital entertainment products Creative, restaurant chain Fish & Co., Hong Kong specialty restaurant Legendary Hong Kong, global gaming lifestyle company Razer, and performance sportswear brand THORB Apparel. The organiser expects to see more brands coming on board during the initial launch phase.
Within the last 10 years, esports has become a billion-dollar industry in 2019. Research firm Newzoo forecasts that global esports revenues will grow to US$1.1 billion in 2020. In Singapore, the esports segment amounts to US$123 million with 1.4 million users nationwide in 2020 (Statista).
The #SGPlaysTogether initiative further amplifies the mission of the Global Esports Federation (GEF), which SGEA is a member of, to convene the world's esports ecosystem, including players and athletes in the world's fastest growing spectator sport, as well as staging of national and international esports programmes.
This local initiative echoes the call by WHO, the GEF, and esports publishers worldwide, recognising video games' capacity to bring people together amid the pandemic, ensuring people stay safely connected to each other. Given the accessibility of online and mobile gaming, games are the perfect platform to convene people that transcends geographical limitations in a #worldconnected through a shared love that is esports – encouraging young people to stay home and safe.
For more information, visit esports.org.sg/sgplaystogether.
###
Media Contact:
Issued for and on behalf of the Singapore Esports Association by Bless Inc Asia. For media enquiries, please contact:
Bless Inc Asia: Gabriel Q Chan, (65) 9182 7713, [email protected]
SGEA: Joy Li, (65) 9646 4512, [email protected]